Applications on sophisticated technology without the hassle that can be used while on vacation. The year-end holiday is coming soon, where do you think there are vacation plans. Indonesian Nature offers exotic views ranging from beaches to mountains, therefore it is not uncommon for many international tourists to come to Indonesia to unwind with their daily activities while on vacation in Indonesia. The island of Bali is one of the prima donnas of vacation destinations for local and international tourists who offer the beauty of the beach with the hospitality of the Balinese. However, with the current situation, the Covid-19 virus pandemic requires several vacation schedules that have been made to be postponed first until conditions allow for a return vacation.
Already planning several agendas for vacation but there is no time to prepare for the needs during the holidays and are afraid of being complicated because now there is a Covid-19 virus pandemic. During this pandemic period, worries about vacationing became even more intense, from the cleanliness of the hotel to the health protocols that must be taken while on vacation. Don't worry, you can use these 5 applications to make your vacation activities easier, see the following information.
Traveloka
Confused, want to buy plane tickets for holidays but are afraid of the situation that is currently in the Covid-19 pandemic. You don't need to come directly to the ticket booth for the airline you want. Now you can easily use Traveloka application services by arranging a booking schedule in advance.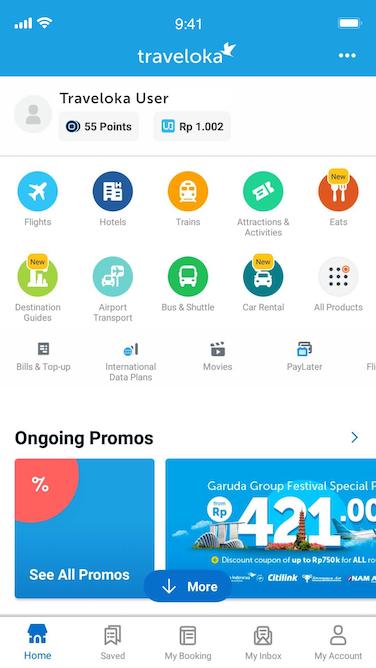 Traveloka is a service that can be used to order transportation tickets as a superior product, as for other services such as hotel tickets, credit, internet packages, and insurance. There are various transportation tickets available at Traveloka, such as plane tickets, trains, boats, buses, to rent a car. Affordable prices coupled with promos and price discounts given make customers tempted so they choose to order tickets from the Traveloka application instead of having to come to the ticket sales counter directly. In November 2020, Traveloka has a special price offer with a discount of up to 80%. Given that currently there is a pandemic of the Covid-19 virus, many people prefer to book holiday tickets via the Traveloka application in advance, so that when conditions allow for a vacation they will be able to go on vacation immediately. There is a ticket rescheduling feature that you can use at any time when suddenly there are obstacles that require you to postpone your vacation schedule. Traveloka collaborates with several transportation service companies such as Garuda Indonesia, PT Kereta Api Indonesia, and lodging services such as Accor Hotels and others. After ordering a ticket from Traveloka, you are required to pay according to the ticket price you choose using several payment methods available in the Traveloka application. Don't worry, you also won't leave your house just to pay for the ticket because Traveloka has a payment system that is easy to use. Payment methods can be done easily through several banks and minimarkets such as BNI, BCA, Mandiri, BRI, Indomaret, and Alfamart. Come on, what are you waiting for, order and arrange your holiday schedule now by ordering tickets using the Traveloka application now!
Google maps and Google weather
You are forgetful and find it difficult to memorize the path of your vacation destination, calmly with Google maps you can solve your problem. Google maps is a guide service that is usually installed automatically on your cellphone. The advantage that you can get is that you can find out the distance and travel time from your location to the destination location according to the vehicle you are using, traffic conditions, street view 360 ⁰ to notification of an accident on the route of the location where you are on vacation. Besides Google Maps, you also get one more service from Google, namely Google weather.
Google weather is a service to find out the weather forecast of a place. The benefit that can be obtained from Google weather is that you can find out the estimated temperature, humidity, rainfall, ultra violet index (UV), and several other features that you can use while on vacation. So, to anticipate the weather that is uncertain, you should check the weather where you are going so you can prepare umbrellas, sunblock, and other equipment.
Online motorcycle taxi
There are those who like to travel solo by train, if you are one of them that means you must have an online motorcycle taxi application. There are several online motorcycle taxi application services such as Gojek, Grab, Maxim, and others. This online motorcycle taxi service can be in the form of taking customers to their destination, delivering goods to be able to deliver food.
Usually, people who like to travel alone using trains, buses, or other public transportation will use this online motorcycle taxi service as a power saver to get to their vacation destination, aren't they tired of having to walk. The price is economical with the promos that are scattered giving it an advantage over online motorcycle taxis so that many customers are interested in using its services. Vehicles from online ojek are motorbikes and cars with a capacity of 3-4 people and 5-6 people. In addition to the economical price, the online motorcycle taxi application also provides benefits to customers to save time and effort due to the location of the online motorcycle taxi drivers which are close to the pick-up location and online ordering with a predetermined pick-up point so that customers don't bother approaching the ojek base. So for those of you who like solo travelers, you must have one of these online motorcycle taxi applications.
Reddoorz
The current pandemic period requires everyone to maintain personal hygiene and health so as not to contract or transmit bacteria and viruses that cause illness. Choosing a place to stay while on vacation must pay attention to health protocols. One of the lodging service providers that you can use while on vacation is Reddoorz. The advantage that Reddoorz provides is the number of discounted promos, this is what makes travelers tempted to book lodging and enjoy the facilities provided. In addition to the discounted prices, Reddoorz's facilities are undoubtedly such as clean rooms, towels, mineral water, toiletries, and free WIFI for every guest. For only Rp. 99,000 you can stay with facilities such as star hotels so let's wait, immediately set your stay schedule at Reddoorz.
Zomato
It is undeniable for tourists to try and taste local food from a vacation destination. Food has an important role in the contents of the stomach and the contents of the wallet too, therefore for those of you who want to know the price and evaluation of food before trying it, you must have this Zomato application.
The Zomato application is a restaurant search service with some information that you can get, such as menu information, food, and beverage prices, to food assessments from someone who has tried the menu first. Even the search for food and drinks with the desired minimum price can be fulfilled without worrying about the contents of the wallet-draining. The nearby feature is one of the advantages that this application has, so if your boyfriend answers it's up to eat where you can find a suitable and close place immediately.
So you already know what to prepare and download before the holidays start. Let's set your vacation schedule at the end of the year tomorrow by still paying attention to health protocol, of course. Hopefully, this information can be useful and the vacation agenda will be realized soon.
Take a peek at the following beach detections that you must visithttps://traveladdict.xyz/daftar-4-pantai-di-sumba-yang-wajib-dikunjungi/